About Us
Healthy skin is beautiful.
Dr. Bruce Robinson, a leading New York City dermatologist and the creator of JAS Cosmetics, put his skin care expertise into creating a simple, natural, plant-based and luxurious skincare collection. The result is Just Amazing Skincare (JAS), a line of products designed to provide maximum benefits with antioxidants & vitamins and clinically formulated to cleanse, restore & protect your skin, at any age. Try JAS for your skin. We think you'll be amazed.
Watch the JAS Story: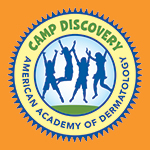 Your JAS purchase today is helping a child living with a severe, chronic skin condition take part in a safe, supportive, "one-of-a-kind" summer camp experience under the expert care of dermatologists and nurses. There is no fee for camp. All costs including transportation are provided by the American Academy of Dermatology through generous donations.
At Camp Discovery, established in 1993, we offer a one week summer camp experience where kids living with severe skin disorders can participate in activities such as fishing, swimming, archery, horseback riding, nature trails and just plain fun.  For more information on Camp Discovery, visit https://www.aad.org/public/kids/camp-discovery.
Supporting the AAD's (American Academy of Dermatology) Camp Discovery is a continued priority and a matter of pride for the JAS family.